What is Thyme Box and How Does It Drive Better Cancer Care?
How can we make the cancer care journey easier, more human, and more efficient for patients and care providers — and improve health outcomes and lower costs?
At Thyme Care, that's the goal behind our innovative cancer care management platform, Thyme Box. Our Care Team does an incredible job helping members with cancer get their needs met, while supporting oncologists in delivering the best care possible. But we don't often talk about the technology that enables their work.
Thyme Box is one of the core technologies that allow our Care Team to navigate patients efficiently and at scale while actually enhancing the human side of cancer care. Purpose-built for oncology, Thyme Box eases care navigation and coordination, allows Care Teams to develop personalized care plans, surfaces data-driven insights to proactively identify barriers to care, and improves Care Team productivity so they can act swiftly and intentionally on behalf of our members.
A recent, exclusive story in Fierce Healthcare captured the excitement around Thyme Box's new capabilities and their impact. In this blog post, we'll discuss how Thyme Box supports our Care Team.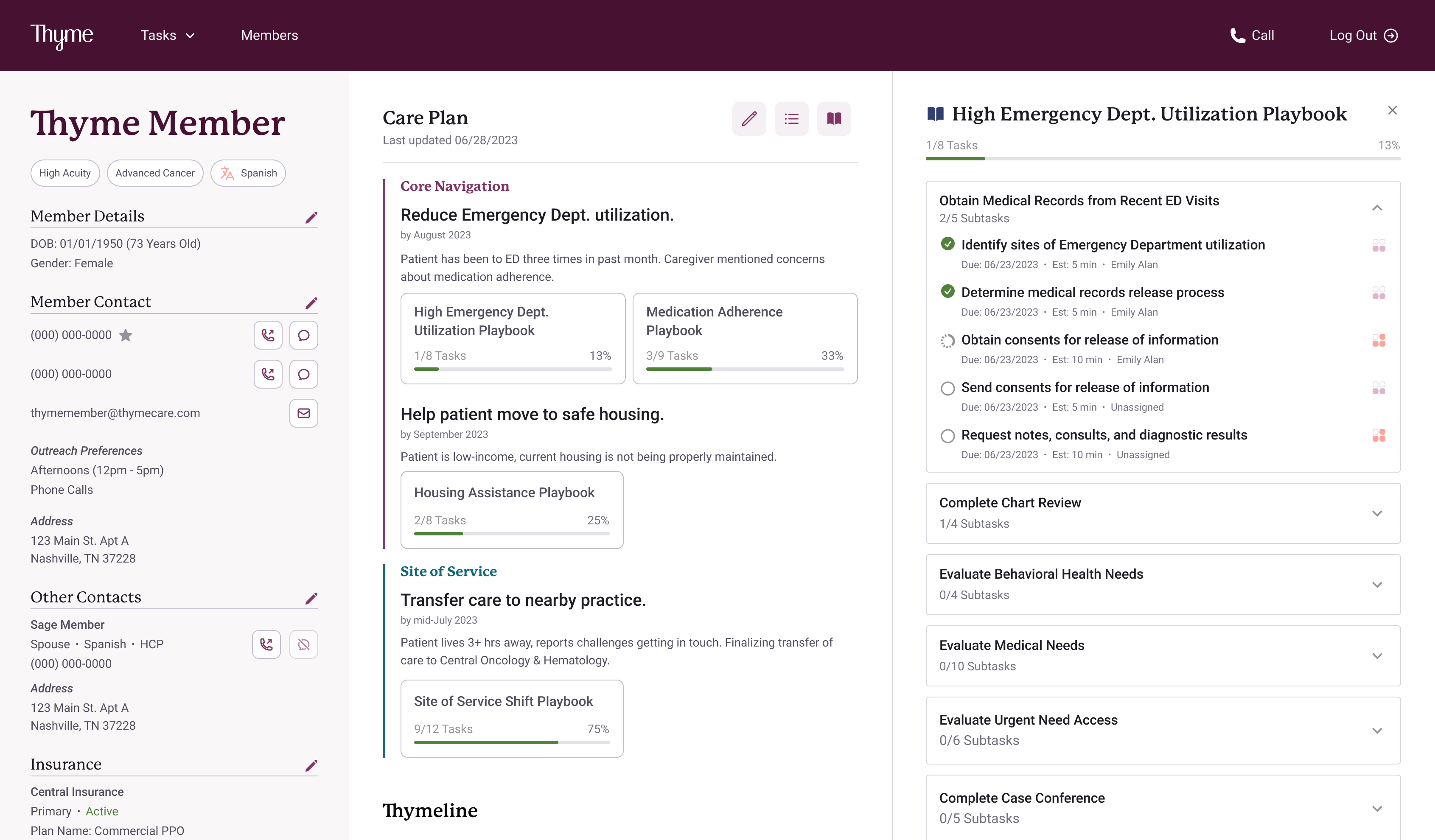 Care Team Collaboration
It takes a dedicated team of people across different areas of expertise to meet the complex needs of cancer patients. Our Care Team works together in pods that include nurse practitioners, oncology nurses, resource specialists called Care Partners, enrollment specialists, and administrative assistants. Each pod supports an assigned group of members in a specific geographical region, leveraging local knowledge to make connections with care providers and community-based organizations.
Thyme Box gives each pod a shared view of each of their members, from which they can update the member's status and needs, flag concerns, facilitate cross-team coordination, initiate triage, and plan interventions to give members proactive assistance.
To enable this personalized support and care management, Thyme Box offers a suite of automation features that allow the Care Team to focus on building supportive relationships with patients and addressing their most important needs at the right time. This includes populating member profiles with data from a range of sources that give our team a clear picture of each patient's medical status and needs, prompting regular mobile outreach to monitor changing needs, and managing handoffs between team members.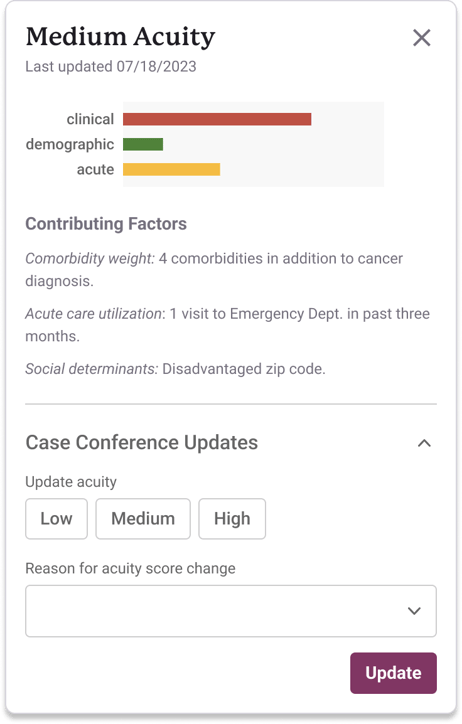 Data Does It
So much of personalized healthcare comes down to data. To provide whole-person care at scale, our Care Team first needs to be able to identify members with high needs, and get a full picture of their circumstances. Thyme Box leverages claims, EHR, and HIE data that is fed into Thyme Frame, our data platform, to auto-generate acuity scores based on medical history, social history, and individual needs.
Thyme Box then continues to collect and share data throughout the member's care journey. Thyme Box integrates with electronic health records (EHRs) and other data sources to stay up to date on each member's care and to track major transitions through, like admission to or discharge from the hospital. It also provides updates back to a member's clinical oncology team and helps flag key clinical concerns.
Thyme Box also allows the Care Team to continuously improve their processes and test hypotheses through pilots and A/B testing, launching changes to small subsets of users to see impact across a portion of the member population or Care Team. This flexibility, afforded to us by opting to build Thyme Box in-house, unlocks frequent iteration of our care model.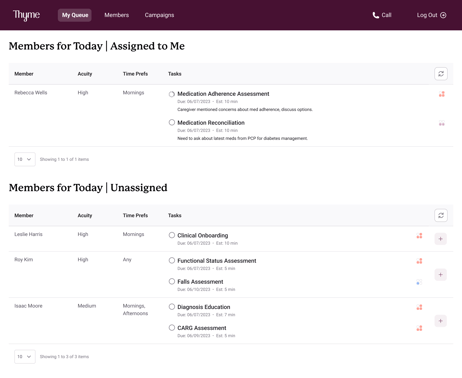 Passing the Baton
For our Care Teams, Thyme Box then does the heavy lifting of task management and coordination. Thyme Box automatically surfaces tasks to the right people at the right time, reducing "cognitive overhead," or the burden of figuring out what needs to be done next, and automating coordination with other team members. Rather than making care feel robotic or automated, this supports the Care Team to focus more on direct contact with patients, and sharing their clinical and resource expertise.
When a Care Team member logs onto Thyme Box each morning, they are presented with their members for the day, and the tasks for each of those members. Each task is matched to an appropriate Care Team role: Enrollment Specialists are there to help onboard the members, nurses are assigned clinical tasks, and Care Partners get tasks related to social needs, like arranging for transportation, helping with financial assistance, or dealing with a crisis like a notice of eviction. This ensures that each Care Team member can bring their unique skills and experience to help members, and operate at the "top of their license."
Tasks are prioritized based on the member's acuity level, how important that action is to the member's wellbeing, and that task's appropriate sequencing amongst a member's various needs. The prioritization of tasks for the Care Team allows for a shift from reactive to proactive care navigation by surfacing activities like symptom assessments and screenings for non-clinical needs on a predefined cadence that ensures needs are being uncovered as opposed to just waiting for them to be surfaced. Finally, Thyme Box also adjusts task prioritization according to the estimated completion time and schedules or assigns tasks accordingly. When one task is completed, the team member can immediately move to the next one.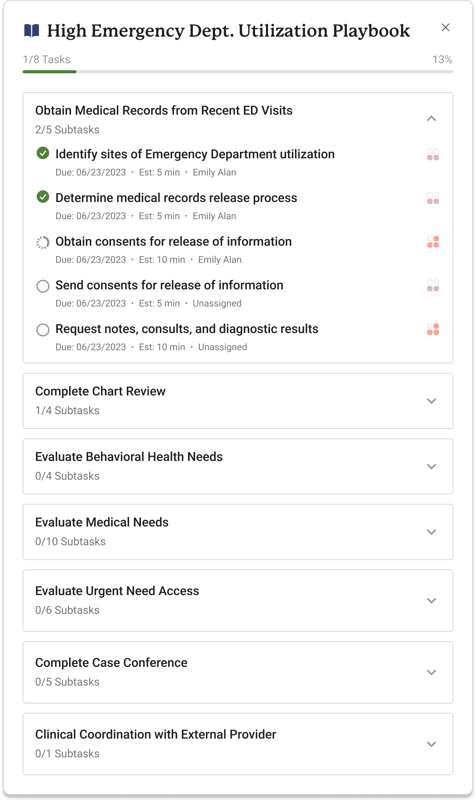 Following the Playbook
When different clinical conditions, personal circumstances, and social needs arise, they require a very specific set of tasks to respond to them. We've organized these interventions into Playbooks within Thyme Box. We have more than 100 oncology-specific Playbooks so far, each with a sequence of predetermined tasks that guide our Care Team through evidence-based responses to effectively support our members.
For example, our Playbooks include:
The tasks and assessments we use to onboard a member and capture their clinical and non-clinical needs
Our approach to triaging and addressing symptoms, like diarrhea or shortness of breath
Our system for understanding and improving a member's medication adherence
Our plan for assisting members with transportation
Our process for guiding members through advance care planning
And more
Not only do the Playbooks make care delivery and administrative processes more efficient, but they also reduce errors and delays.
While Playbooks add helpful structure and consistency, they are not rule books; they are flexible and constantly refined with input from real-world experience.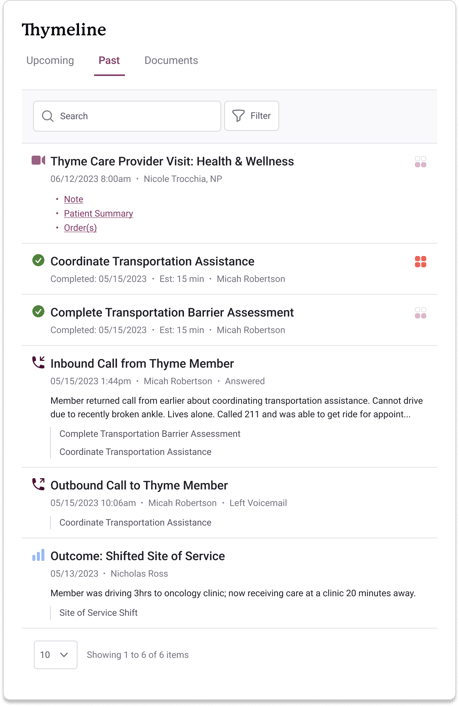 Documentation Simplified
While Playbooks aid the Care Team in planning for the future, Thyme Box also helps Care Team members understand past actions taken to support a member, and the context of their ongoing cancer care. Every patient chart includes a Thymeline, a log of updates and notes recorded as an ongoing history of their care journey that helps the Care Team with documentation and context gathering. For many care providers, paper work and data entry is the most labor intensive and time consuming part of the job. By automatically organizing and tagging notes, updates, tasks, outcomes, and evolving needs, Thyme Box enables the Care Team to minimize their documentation and context-gathering time, and maximize the time they get to spend supporting members.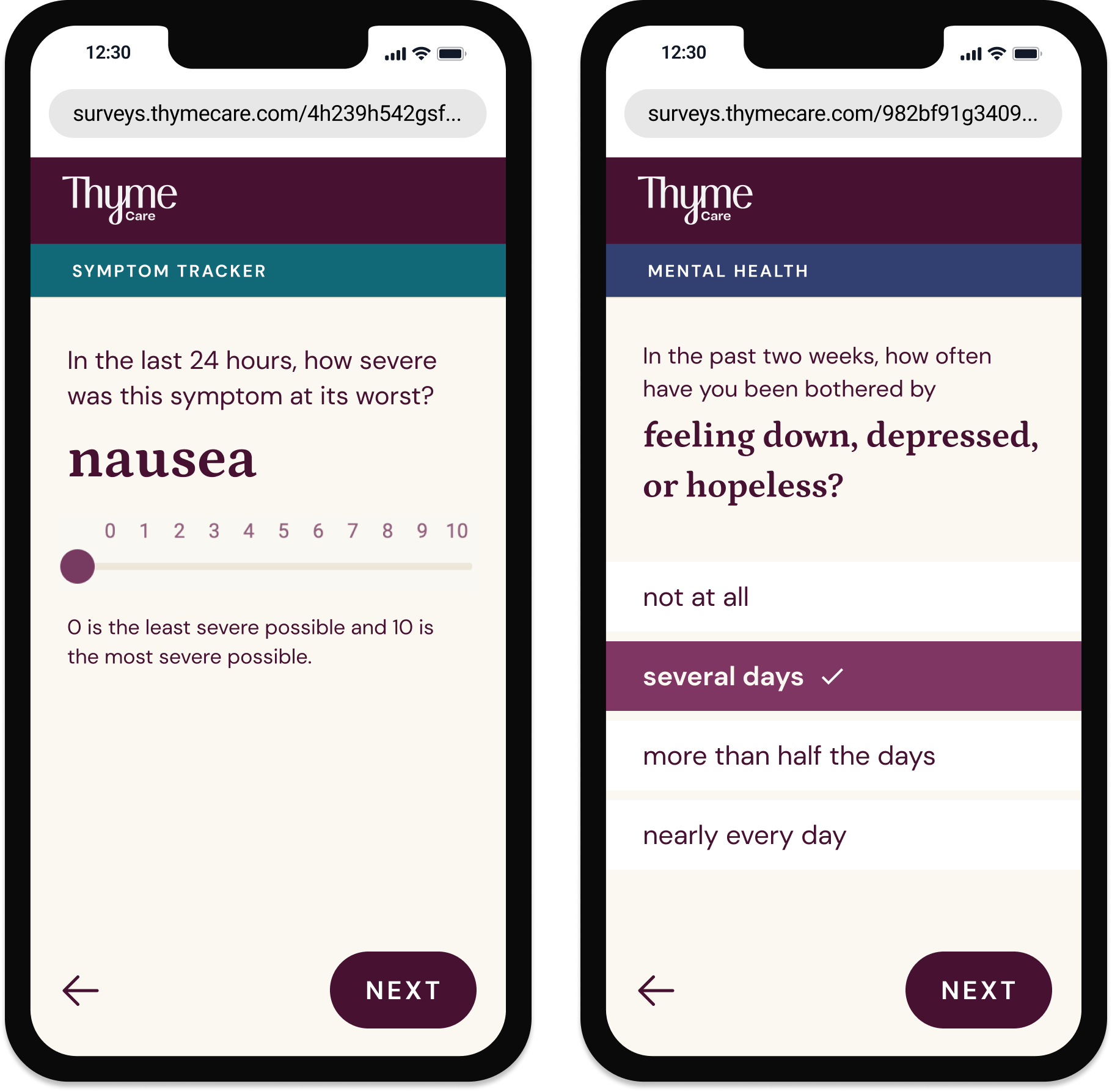 Meeting Members Where They Are
Thyme Box also helps our Care Team stay proactive and attentive by monitoring the changing needs and circumstances of our members.
To keep tabs on our members, we regularly send out brief digital check-ins that survey each member's health and health-related social needs. The results are automatically recorded in Thyme Box, and trigger follow-ups or Playbooks as appropriate. This helps us gather high-quality data quickly and consistently.
These check-ins, their questions, and their format are adapted to each member's circumstances and communication preferences. For some members, this may mean that the Care Team is engaging primarily via telephone, but other members may thrive on asynchronous text message-based communication, and finally some may prefer that we engage via video. All of these communication capabilities are natively integrated into Care Team workflows through Thyme Box to make it seamless for both the Care Team and members.
Thyme Box's member engagement tools also allow the Care Team to easily share relevant education materials (in multiple languages) when needed, help identify other resources or services, set up referrals, and manage consent paperwork.
The Compassion Thyme Box Makes Possible
Cancer is such a complex disease and every care journey is different. Many people undergo prolonged treatment, requiring lots of coordination across oncology practices, primary care practices, and social services organizations. Those journeys are even more challenging when people also have other chronic illnesses or comorbid conditions or face personal, economic, or social circumstances that make it harder for them to access care and manage their care plan.
In a recent op-ed published in Fortune Magazine, Thyme Care's own Bobby Green and Brad Diephuis wrote about this reality. Cancer treatments continue to advance rapidly with new drugs and therapeutics that were hardly imaginable even a decade ago. But many patients face basic challenges that get in the way of their care. Some can't afford bus fare to get their appointments, or face eviction from their homes, or don't have the in-home support to handle their side effects and symptoms.
No matter the circumstances, cancer care is emotionally and mentally taxing for everyone involved, including the members of our Care Team. Thyme Box is purpose-built to ease the burdens associated with providing cancer care navigation and enable our Care Team to support oncology practices in providing whole-person care to each individual member. Most importantly, it's helping bring our Care Teams' skill and compassion for people with cancer to scale so that as many as possible can have a better cancer care journey.